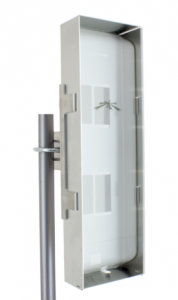 I installed my NanoStation today at my home QTH using one of these kits from RFArmor. I was really impressed with the build quality and general utility. Not only does if provide RF shielding for your Nanostation, it is also a mounting system with options for mast mount (which I used) or wall mount. All mounting hardware is included.
According to the manufacturer, these shields provide a lower noise floor, cleaner signal, superior signal to noise ratio, fewer wireless retries and errors, higher sustainable air rates, and up to 50% increase in performance.
They are $27.95 and available here: https://www.rfarmor.com/index.php/nanostation-kits.html.