If you get QST Magazine, it is hard to miss Yaesu's push for their 2m/440 digital/analog radio offerings. They have been taking out 2 page ads right after the cover for some several months now. Yaesu  digital radios use the C4FM modulation method. It is currently only compatible with other Yaesu radios.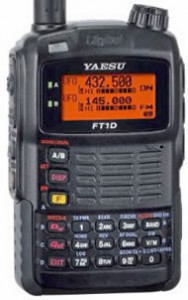 Yaesu's base HT radio, the FT1DR, has become very reasonably priced, with most outlets selling them for less than $300. First, they are full featured dual band analog HT radios with all the features you would expect from Yaesu. But there's more. A lot more. This radio also has digital capabilities, GPS, and APRS.
Levi K6LCM and I decided to take the plunge and order a pair of these powerful little radios. They operate just like any other quality HT on VHF and UHF analog so they are great for every day communications. Levi and I tried our first experiment with digital using simplex between his home QTH on the far western end of the ocean side of the Mesa, and my QTH on the far eastern end of the Riviera. Between us there are two hills to overcome, so we hooked our radios to our rooftop antennas and used 5 watts of power.
Wow! The first thing I saw was Levi's callsign come up on my radio. His voice was completely natural and absolutely clear. No static, no background noise, just an absolutely clear voice as if he was next door.
There are all kinds of other cool features we have yet to experiment with, like seeing the other person's location and relative distance. For now the bottom line here is that digital communications is not a gimmick. It really works. We'll continue to explore the capabilities of these little radios and post more in the future.
If you want to learn more about digital voice radio, tune into the ATV Special Modes Net on Tuesday at 8:30pm. We will be discussing this more there this week.