This seller is offering a beautifully restored, complete 1959 Heathkit Station.  He is selling the following as a package;
TX-1 (1959), RX-1 (1959), HO-10 Modulation Monitor, SB-10 Side-band Converter, Spare Roller Dials for transmitter and receiver, TX-1 spare parts chassis, Spare Modulator Tubes, HM-102 SWR/Power Meter, Complete manuals for all.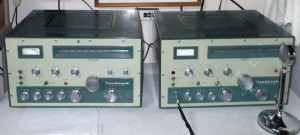 Asking $1070.00, cash only at pick-up.
More info can be found at Lin's website, http://www.moonlightsys.com/revival/misc/
Contact Lin – KJ6EF by email "Callsign"@qsl.net