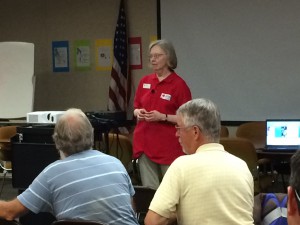 Many thanks to Rebecca Anderson of the American Red Cross for get great presentation on  "Be Red Cross Ready." Rebecca specifically focused on the types of emergencies we might face in Santa Barbara and explained how we can prepare ourselves in advance so that we can survive the first few days of an emergency on our own. No matter how well we think we are prepared, we can always learn something new. We certainly did this night. Virtually everyone walked away with additional knowledge as well as some great handouts from the Red Cross.
The full audio is available in the General Meeting Audio Archives section.
Post expires at 7:15pm on Saturday August 1st, 2015 but will still be available in the archives.