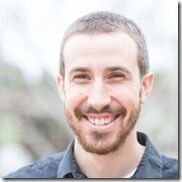 (Darryl KF6DI) – Mike Bales, KI6VBK, is the CEO and co-founder of the Santa Barbara Hackerspace, which was founded 6 years ago in his garage. Mike moved from San Diego to Santa Barbara to attend Santa Barbara City College to get a start on a degree in Electronic Engineering. He was frustrated with the limited access to the labs there and couldn't afford the equipment that was required for an electronics project he was working on. 
His life changed when he attended the Bay Area Maker Faire in San Mateo that year and discovered the concept of hackerspace. He thought that there must be others in a similar situation in need of space and equipment for personal and school projects given Santa Barbara's many schools so he decided to try and start a hackerspace. Hackerspaces are community-operated physical places, where people share their interest in tinkering with technology, meet and work on their projects and learn from each other. 
SB Hackerspace started small, about a half dozen people meeting in Mike's apartment / garage for the first 6 months or so. Once they built up a small core group they rented their first space on Aero Camino in Goleta and quickly grew and acquired more members. 
Mike has a day job as a systems administrator for a small IT company which manages networks and equipment for 30 clients in the Santa Barbara area, in addition to running the hackerspace, and developing open source weather balloon trackers and other neat projects. 
If you would like to know more about this young, exciting group of people and what they are doing, you are invited to drop by and pay them a visit. The Santa Barbara Hackerspace is a fun and friendly setting for makers and hackers to build, experiment and learn together. They welcome all participants, no matter their level of skill or experience. Their general meetings are on Saturdays from

2 pm

until late, and there are usually people there during the evenings on most weeknights. So, you can drop by their

location on Saturday

after you leave the SBARC Club Station, which closes around noon, and while you are there you can also join their
mailing list
for updates!
Post expires at 9:00pm on Friday June 17th, 2016 but will still be available in the archives.